You may wish to request to add an additional property to your Keyholding Company portfolio. Below is a guide on how to do this. Should you need further assistance please don't hesitate to contact us.
Log in to the client platform, the link can be found HERE.
In the menu on the left hand side expand the 'Properties' section and you should see an option for 'Add new property'

Once you've clicked on 'Add new property' a form will open up, you will need to complete each required field before you can submit the form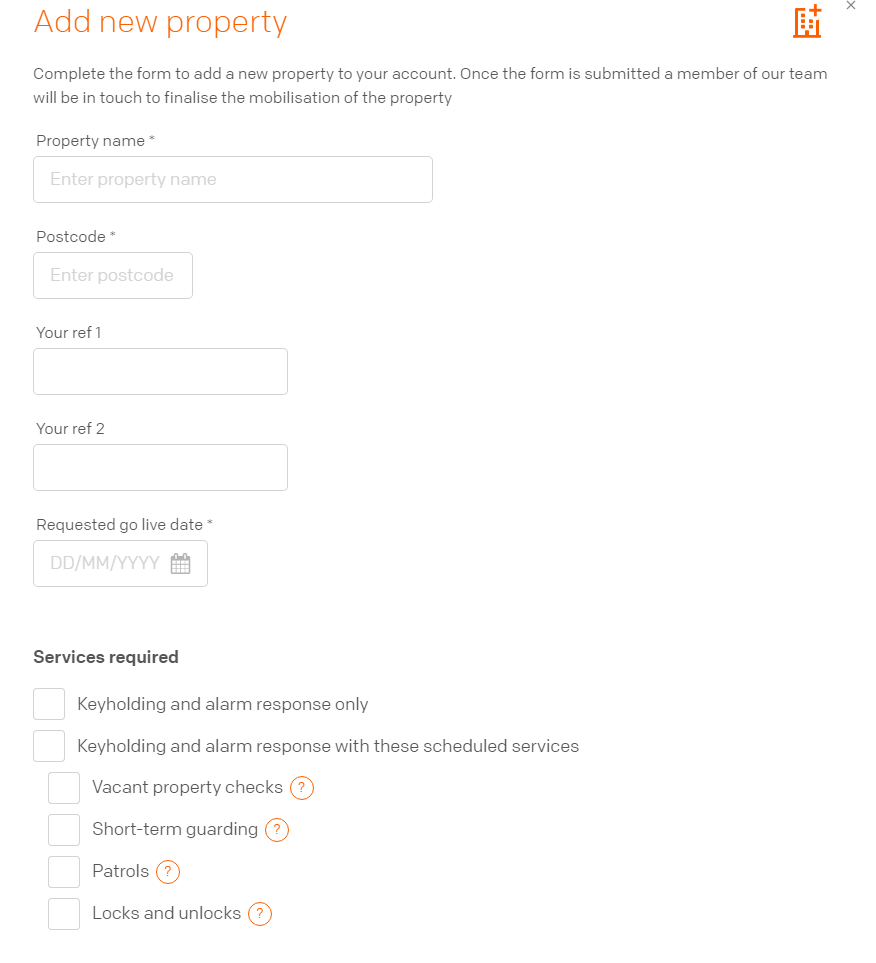 Property name will be used to distinguish from your existing property, complete the address field and ensure you enter a reference, this will be used by us in any correspondence when completing the adding of a property process.
Select which services you require on the property, you can select multiple options and at least one service must be selected.
In the 'General location' field please enter a brief description of where the building or site is near, or any landmarks our officers can use to locate the site.
If there is an alarm system in place please check this box and ensure that you enter the instructions on how to arm/disarm the alarm in the 'Entry procedure' field.
Finally add any emergency contacts and job report recipients into the final two fields. Emergency contacts will be used in the event of an alarm call or should we need to speak to anyone urgently. The job report recipient(s) will receive any automatically generated job reports once a job has been completed against the property.
Once the form has been submitted this will go over to our Senior Operations team, they will start to make the necessary arrangements to bring your new property onboard and will be in contact if any further information is required and to book a site survey.