There are two types of scenarios when completing a job on our mobile:
Scenario 1. The job has gone according to plan, and there are no immediate issues that require resolution.
Scenario 2. You have discovered an issue on-site. Here's some examples of these issues:
- Keys don't work/access not possible
- Break-in discovered
- Other security issue discovered (windows smashed etc.)
- Flood/damage
- Alarm panel not working
- Unable to reset alarm
- Unable to secure property
In this scenario, you'll press the Red 'Raise Issue' button at the top. The app then prompts you to select what type of issue you are having. It will then force you to call our control room, whereby we will take over the incident reporting.
Below are animated screenshots explaining how to handle each scenario:
Scenario 1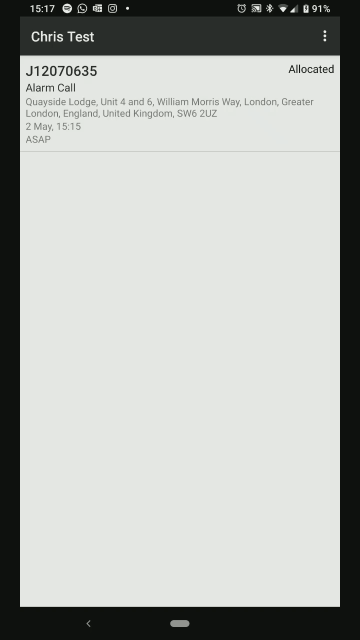 Scenario 2 (with an issue raised)